9" Dahlgren Gun 54-mm (1/32 scale) Resin Kit
Made in USA by Cottage Industry Ltd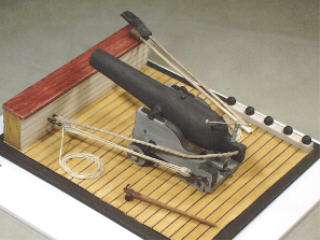 # CO SG-007
$44.99
John A. Dahlgren of the US Navy and Thomas J. Rodman of the US Army got together and actually revolutionized the smoothbore cannon for use as heavy large caliber siege and naval guns. The solid shot used could pierce a ship's armor, and the gun was also capable of firing grapeshot, creating a "spraying" effect, when fired up to 300 yards & capable of inflicting much damage. 9" Dahlgren guns were used quite extensively by the North as a naval gun and used by the South after capture (used on famed ironclad "CSS Virginia").
Our 1/32 scale resin kit is fairly easy to build. Base measures 6" from edge to edge.
Kit comes with a standard swivel type naval carriage and basic handling implements (as shown). Relatively easy to build, this kit represents the most historically accurate rendition of this famous gun.
Back to Cottage Industries Scale Model Kits Page
Compatible Monarch artillery crew figures
Click here to view compatible artillery crew by Carolina Miniatures