CSS Hunley Confederate Submarine by Cottage Industry Ltd
Fully Updated Cutaway Edition
Larger 1/24 scale resin model kit based upon archeological measurements of actual recently excavated submarine. Measures approximately 33" long!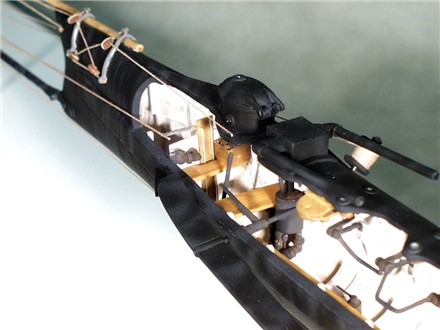 # CO 24-001
$216.00
On the night of February 17th, 1864, the Confederate submarine HL Hunley attacked & sank the Union sloop-of-war USS Housatonic & became the first submarine in history to sink an enemy war ship in combat. The Hunley disappeared after signaling her success to Confederate positions on Sullivan's Island, South Carolina. Her secrets remained lost until 1995 when her wreck was discovered, and later raised for study and preservation by the "Friends of the Hunley".
This multi media kit is the first and ONLY accurate cutaway model available in the world of this amazing submarine created from first hand observations and archeological measurements, and features resin, cast white metal, wood, and brass parts. The interior is fully detailed and updated to reflect the latest information about the Hunley. The instructions are over 30 pages long with over 70 detailed illustrations, and include many technical facts and opinions based on research to aid in the construction of this model. The finished model measures approximately 33" overall.
Modeling experience is HIGHLY recommended!
For photos, click on thumbnails:
Back to Cottage Industries Scale Model Kits Page