CSS Albemarle Confederate Ram Ironclad 1/96th scale resin model kit
Contains Bonus Kit!
Lt. W.B. Cushings' Steam Launch ("Pickett Boat #1")
Also includes templates to convert this model to the CSS Neusse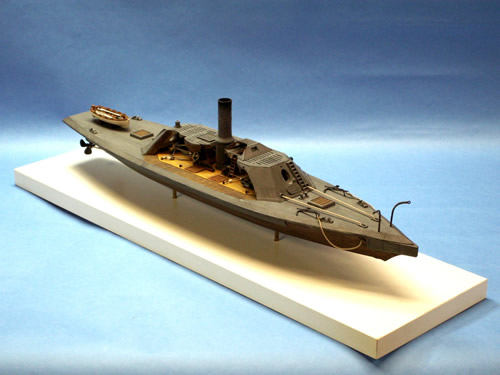 Bonus kit photo of Picket Boat #1: (click on photo for larger view)

# CO 96-006
$225.00
Model description:
1/96th scale model kit of the CSS Albermarle. Model measures almost 19 1/2 inches long!. BONUS Kit included!!! Free with this kit is a 1/96th scale kit of Lt. Cushing's Steam Launch, used to sink the Albemarle. Albemarle kit includes complete extremely detailed museum quality interior for cutaway display. Features resin hull, deck, and white metal fittings, flag sheet also included. Wonderful details in an easy assembly format. Complete instructions with lots of illustrations.
Brief history:
The first CSS Albemarle, a relatively small ironclad ram, was built at Edwards Ferry, North Carolina. Commissioned in April 1864 under the command of Commander J.W. Cooke, CSN, she almost immediately went into action. On 19 April 1864, Albemarle attacked U.S. ships off Plymouth, N.C., sinking USS Southfield and driving away USS Miami and two other gunboats. With their waterborne communications severed, the Union forces were forced to surrender Plymouth to the Confederates.
Just over two weeks later, on 5 May, Albemarle, accompanied by the steamers Cotton Plant and Bombshell, steamed out into the North Carolina Sounds and attacked another U.S. Navy force, consisting of the "Double-ender" gunboats Sassacus, Wyalusing and Mattabesett, converted ferryboat Commodore Hull and small gunboat Ceres. Though Sassacus made a valiant attempt to sink the Albemarle by ramming, she was badly damaged in return. The Confederate ironclad was but lightly damaged in the engagement, which threatened the entire Union position on North Carolina's internal waters.
Desperate circumstances yield desperate responses, and on the night of 27-28 October 1864, Lieutenant William B. Cushing, USN, took the torpedo boat Picket Boat Number One upriver to Plymouth and bravely attacked Albemarle at her berth, sinking her with a spar torpedo. Following the Union recapture of the town, Albemarle was refloated. Taken to the Norfolk Navy Yard in April 1865, she remained there until sold in October 1867.
Additional photos (click on photo for larger view: (figures shown in last photo are not included & available separately):
Albemarle forward section of interior:

Albemarle middle interior section:

Picket Boat #1 (Cushings' Launch):

Modeling experience is HIGHLY recommended!
Back to Cottage Industries Scale Model Kits Page