Lt. W.B. Cushings' Steam Launch ("Pickett Boat #1") 1/96th scale resin model kit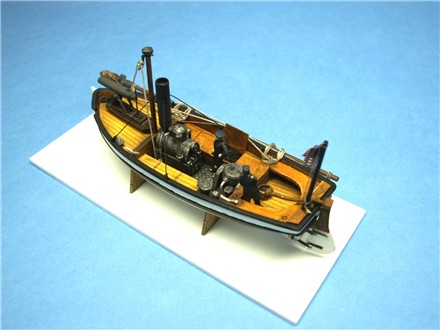 Additional photo of Picket Boat #1: (click on photo for larger view)

# CO 96-007
$26.99
Model description:
1/96th scale model kit of the Lt. W.B. Cushings' Steam Launch ("Pickett Boat #1"). Model measures 4 inches long!. Resin kit with highly detailed full hull, white metal parts (torpedo, howitzer, fittings, screw, and additional details), metal rod (torpedo spar), wooden dowel (support mast & flagstaff), rigging thread and crushed coal. Figure shown on deck in photo is not included.
Brief history:
Desperate circumstances yield desperate responses, and on the night of 27-28 October 1864, Lieutenant William B. Cushing, USN, took the torpedo boat Picket Boat Number One upriver to Plymouth and bravely attacked the CSS Albemarle at her berth, sinking her with a spar torpedo. Following the Union recapture of the town, Albemarle was refloated. Taken to the Norfolk Navy Yard in April 1865, she remained there until sold in October 1867.
Modeling experience is HIGHLY recommended!
Back to Cottage Industries Scale Model Kits Page