USS Monitor Union ironclad by Cottage Industry Models Ltd
John Ericsson's "Cheesebox on a Raft"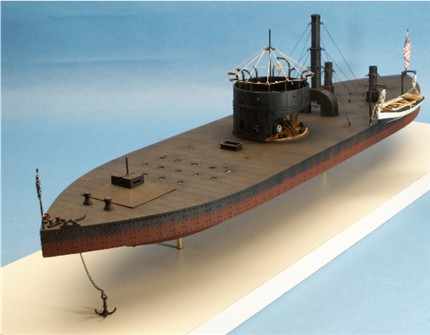 # CO 96-008
$225.00
Model description:
1/96th scale model kit of the USS Monitor turreted Union ironclad. Model measures about 22" long. Includes resin, cast metal, and custom photo-etched detail parts, fully detailed interior for the gun turret suitable for cutaway display, complete instructions,.
Brief history:
USS Monitor was the first ironclad warship commissioned by the US Navy. She is most famous for her participation in the first-ever naval battle between two ironclad warships, the Battle of Hampton Roads on March 9, 1862 during the Civil War, in which Monitor fought the ironclad CSS Virginia of the Confederate States Navy.
Designed by the Swedish engineer John Ericsson, Monitor was described as a "cheesebox on a raft," consisting of a heavy round revolving iron gun turret on the deck, housing two large (11 inch) Dahlgren guns, paired side by side. The original design of the ship used a system of heavy metal shutters to protect the gun ports while reloading. However, the operation of the shutters proved to be so cumbersome that the crews operating the guns adopted the procedure of simply rotating the turret away from potential hostile fire to reload the guns. Further, the inertia of the rotating turret proved to be so great, that a system for stopping the turret to fire the guns was only implemented on later models of ships in the Monitor class. The crew of Monitor solved the turret inertia problem by firing the guns on the fly while the turret rotated past the target. While this procedure resulted in a substantial loss of accuracy, given the close range at which Monitor operated, the loss of accuracy was not critical.
The armored deck was barely above the waterline. Aside from a small boxy pilothouse, a detachable smokestack and a few fittings, the bulk of the ship was below the waterline to prevent damage from cannon fire. The turret comprised 8 bolted together layers of 1" plate with an additional ninth plate inside to act as a sound shield. A steam donkey engine turned the turret. The heavily armored deck extended beyond the waterproof hull which was only 5/8" thick. Thus the vulnerable parts of the ship were completely protected. Monitor's hull was built at the Continental Iron Works in the Greenpoint section of Brooklyn, New York, and the ship was launched there on January 30th, 1862.
Modeling experience is HIGHLY recommended!
For photo of detail of ship's bottom, click here:

For photo of detail of ship's deck, click here:
Back to Cottage Industries Scale Model Kits Page