Connoisseur Collection OF Saint Petersburg
54-mm scale metal figures painted in Russia.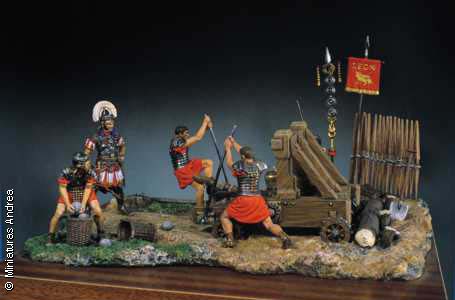 Military Miniatures Warehouse takes great pride in presenting our winning formula…
The world's finest figure sculptors from Europe and Australia
+ the world's leading figure painters (the artisans of St. Petersburg, Russia)
= Connoisseur Collection OF St. Petersburg
Figures from the world's finest manufactures such as Andrea, Shenandoah, Pegaso, FM Beneito, Art Girona, etc.
The world's premier figure kit sculptors: Raul Garcia Latorre, Paul Clarke, Stefano Cannone, etc.
We have contracted with the artisans of Saint Petersburg, Russia to paint these figure kits to world class standards and are now making them available to you at reasonable prices.
(Andrea's Roman Catapult diorama pictured above)
Back to Painted Figures Index Page